Before making a trip to Great Wolf Lodge in LaGrange last week, Natasha Jenkins said she was a little wary. With a soon-to-be 5-month-old among her traveling party, she wasn't sure what to expect when visiting the water park during this time of COVID-19.
But the Augusta resident said she was pleased with the steps Great Wolf Lodge has taken during the pandemic — they call it the Paw Pledge — to keep visitors safe.
"Before we came I was a little nervous," Jenkins said. "But they have been enforcing that you wear your mask everywhere except the pool area, and they are doing a good job of keeping all the areas sanitized.
"We came here on a weekday because we thought it might be safer with less people. But now that we're here, I think we could have come on the weekend with the way they've kept everything so clean."
That's music to the ears of General Manger Chris Lutz, who came to the LaGrange lodge a week after it shut down for three months due to the pandemic. Since he came to LaGrange in March, he has presided over training to help the staff adjust to a new way of doing business.
"It's all about the guests and Pack Members' (employees') safety," Lutz said. "We've had some learning situations along the way — no doubt about it. But our guests have been very good to adhere to social distancing and wearing masks."
For those who might forget about those things, there are plenty of reminders around the lodge. From signs on the floor denoting 6-foot spaces to "heavy signage" reminding visitors under the age of 5 to wear face coverings, the message of safety comes through loud and clear.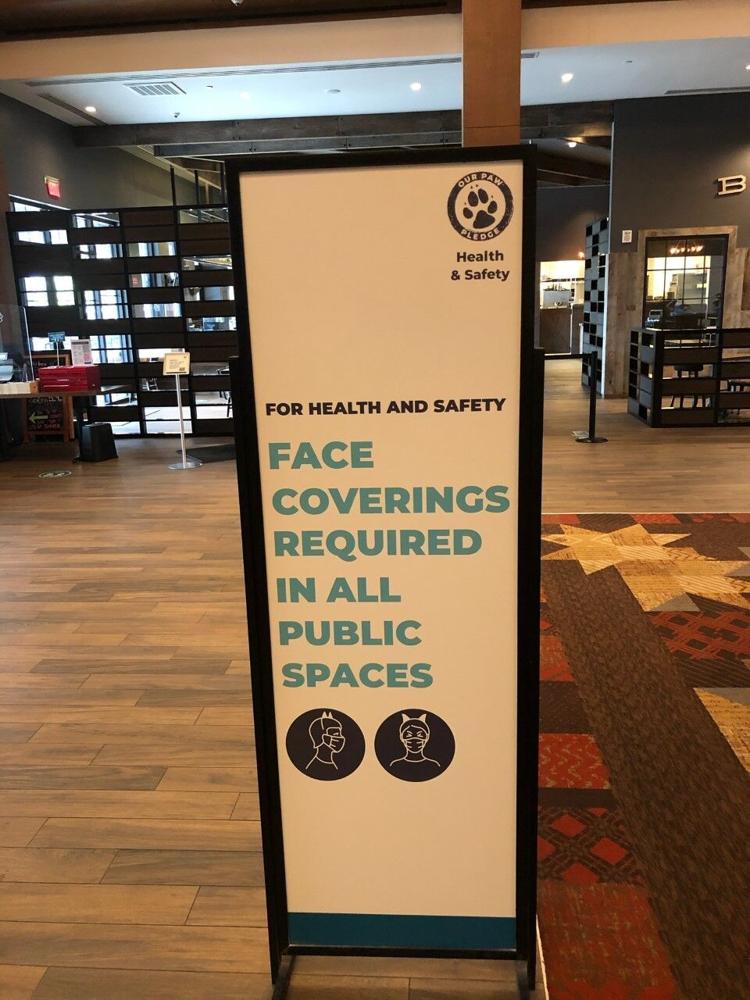 Lutz said the capacity of the water park has been reduced to 50 percent to help with social distancing, while multiple actions have been taken around the property to ensure the safety of guests. For instance, every other lane at the lodge's bowling alley is blocked off and visitors can order takeout food from the resort's app.
"Online ordering has been a hit for us with guests who are more comfortable eating in their rooms," Lutz said.
Story Time, which is one of the lodge's biggest events for the younger children, also has a different look. Guests must reserve a spot for the nightly event, and then they are spaced out with proper social distancing guidelines, sitting on a sign that says "best seat in the house."
Due to coronavirus concerns, there is no meet and greet with the characters like Wiley Wolf after the story is completed, but the lodge tries to make up for that with a gift pack for each attendee which includes trading cards, stickers and coloring pages.
The children's dance party now also requires a reservation. But in a nod to those who prefer to avoid the public spaces as much as possible, Story Time, the dance party and the lodge's Yoga Tails yoga lessons for children are all broadcast over the lodge's in-house TV channel.
All of those changes mean there has been plenty of new training needed for the staff. But Lutz, who came to LaGrange from the Wisconsin Dells, is pleased with how the Pack Members have adapted.
"They have responded very well," Lutz said. "They are very open to having conversations with the guests."
Lutz said there have been no major issues with guests refusing to wear face coverings. Most of the time it's that they simply forget to put one on or bring one from their room, Lutz said. But the Pack Members have become good at nicely offering a mask (which the lodge provides to every guest) to those who may walk by without one.
In the hospitality industry, it's always about making sure guests have a great time. But Lutz said the pandemic has changed that a little, with the emphasis on having both a safe and fun time.
"Safety's our No. 1 commitment," he said.