McDONOUGH — Judge Brian Amero expressed concern about granting bond for Dexter De'Shawn Covington, the Atlanta man accused in the May murder of Jesse Thomas, but said he was bound by state law to do so.
"The court has no discretion on the issue of whether or not to grant bond after 90 days," Amero said in Superior Court Tuesday. Under the law, anyone arrested and jailed for a crime has the right to a grand jury hearing within 90 days, or bail must be set.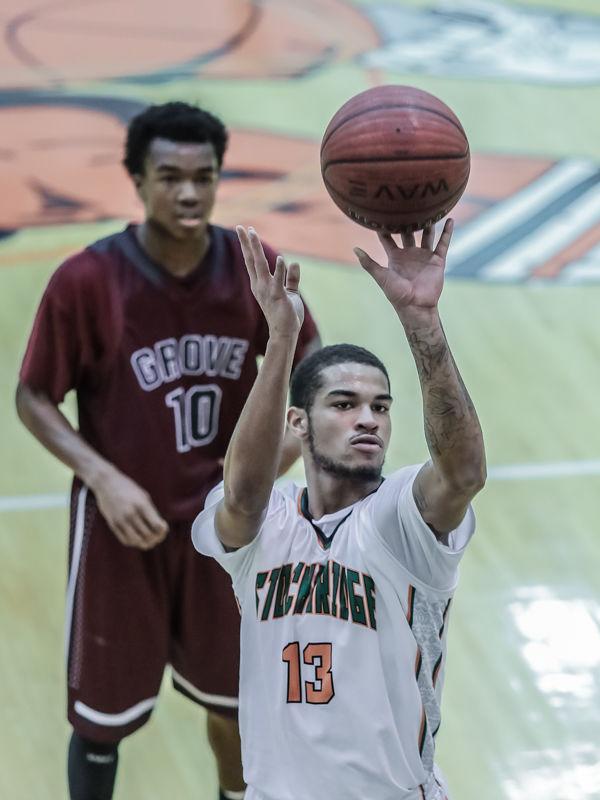 Covington was indicted Aug. 24 in the fatal shooting of the Stockbridge High School senior, 92 days after his initial May 19 arrest. He pleaded not guilty to charges of murder and aggravated assault on Tuesday.
"Ninety-one days, bond must be granted. In this case, we have 92 days," the judge said. "While I agree with Judge Simmons' assessment of this case, we are going to go ahead and grant the bond."
Covington's defense attorney, Dwight Thomas, had previously petitioned the court for bond and was denied in June, prior to the indictment. Visiting Judge Matthew Simmons found that Covington posed a threat to the community, could intimidate witnesses and was at significant risk of committing new felonies should he be released from jail. Simmons also found that there were "no conditions of bond that would prevent that risk."
Covington must pay out a $500,000 bond in order to be released from the Henry County Jail prior to trial. It was the amount suggested by Assistant District Attorney Chaundra Lewis, who recognized that Amero's hands may be tied under the statute but argued against granting bond, anyway.
Covington is accused of malice murder, felony murder and aggravated assault in Jesse Thomas' death. Thomas was shot once near his shoulder during a May 13 graduation party at a McDonough area home. Prosecutors have said the shooting resulted from a dispute among Covington and several others near the front door, when Covington was asked to leave the party and refused.
Friends transported Thomas to Piedmont Henry Hospital, where he later died. Thomas was a member of Stockbridge's basketball team and set to graduate later that month. He was 17.
Lewis pointed to the recorded jail phone conversations between Covington and a friend the state had presented during the June bond hearing. In those calls, Covington and his friend are reportedly heard laughing about causing a stir at the party, discussing contacting potential witnesses and making plans to buy drugs and attend an upcoming Stockbridge party.
"We can hear the defendant and his friend discussing shooting this victim's brother if they were ever confronted by that brother," Lewis told the judge.
Lewis said she was concerned that Covington would continue in a pattern of criminal behavior if he were granted pre-trial release. Covington was named as a suspect in a Carroll County drive-by shooting a couple of weeks before the McDonough graduation party, though Thomas was quick to point out that no formal charges are pending against him in that case.
The defense attorney described the recorded jail phone calls as "foolish talk."
"That has nothing to do with the fact that the defendant is entitled to bond," Thomas said. He rejected the state's recommendation that the bond be set at $500,000.
"To set a bond in that amount really amounts to no bond, and that wasn't the intent of the legislation," Thomas argued.
He described Covington as an honor student recently transferred to Georgia Southern University who held a steady job and presented a low flight risk. He also reminded the judge that Covington initially turned himself in to police when warrants were issued for his arrest.
"As far as we are concerned this is a classic self-defense case," Thomas said.
Amero laid out several conditions for Covington's release. He is to wear an ankle monitor and come under 24-hour family supervision at his mother's Jonesboro home. He is not allowed to leave the home or have contact with anyone other than his attorney, parents and maternal grandparents.
"I am concerned about these phone calls that we are hearing from the jail," Amero said. "He is not permitted to have contact with anyone else."
Covington is also not permitted to post to social media, a request made by the victim's family. He had not been released from the jail as of Tuesday afternoon.