McDONOUGH — The Georgia Department of Education released state and school district graduation rates Wednesday
Henry County Schools experienced a slight drop in rates for the Class of 2019. This year's rate is 87 percent compared to 87.7 percent in 2018.
Despite the decrease, the district remains above the state average of 82 percent.
"With our district experiencing great gains in the recent release of Georgia Milestones Assessment performance, we are pleased to also see our graduation rate closely maintained from last year," said Superintendent Mary Elizabeth Davis. "The Henry County community, our team of employees, our families, and our students are unified by the commitment to grow graduation rates as a reflection of a high-quality K-12 education in Henry County Schools."
Of the 11 high schools, rates at five schools dropped, five increased and Ola High maintained the same rate at 94 percent.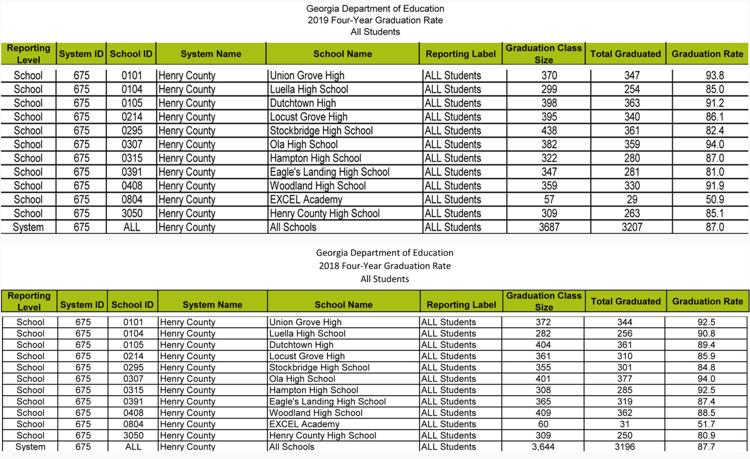 Henry County High School experienced the highest gain this year with 85.1 percent graduating, up from 80.9 percent in 2019. Woodland High had the next highest jump from 88.5 percent in 2018 to 91.9 percent this year.
Of the five that experienced a drop in rates, Eagle's Landing High had the greatest. In 2018 graduation rates were 87.4 percent. This year rates dropped to 81 percent.
Luella High School had the next largest drop from 90.8 percent in 2018 to 85 percent in 2019.
The state began measuring graduation rates in 2011. GaDOE officials said since then the state's average has increased steadily, a total of 12 percentage points from 69.7 percent in 2012 to 82 percent in 2019.
"We are proud of the hard work of our students as well as our employees in ensuring students reach their goal of graduation," said Board Chair Josh Hinton. "While our graduating class enrollment numbers continue to climb and the standards to graduate continue to increase, the Henry County Board of Education is committed to maintaining a high graduation rate and certifying that a Henry County diploma means effective preparation for post-secondary and workforce options."