McDONOUGH –The Georgia Department of Education results from the 2021 Georgia Milestones testing.
The testing was optional due to the interruption from the coronavirus pandemic. As a result, GaDOE officials said year-to-year comparisons are not recommended as there was a significant reduction in the number of students taking the assessments.
As a result, only 47% of third- through eighth-graders in Henry County Schools took the End of Grade Milestones, while 31% of district high school students took the End of Course Milestones. These percentages compare to the state's average of 70% for third through eighth grade EOGs and 59% for high school EOCs. This significant shift in the student participation here locally and across the state has resulted in important but not annually comparable data.
Participation rates decline during pandemic
The state specified students should not be required to come on campus solely for the purpose of testing, which had a significant impact on participation in the state assessment. In Henry County Schools, compared to the last spring assessment of the Georgia Milestones in 2019, 10,000 fewer students in grades three through eight and 7,000 fewer students in grades nine-12 took the Georgia Milestones in the spring of 2021. While grade levels and subjects varied in student participation rates, on average fewer than 50% of HCS third- through eighth-graders participated in Milestones and approximately one-third of eligible high school students participated.
In addition to removing testing requirements, the state Board of Education reduced the grade implications for high school test-takers. Once responsible for 20% of a student's grade, the EOC now constituted only 0.01%. However, Henry County Schools gave its students the option to keep the 20% weighted grade if it helped their academic standing.
The following data reveal 2021 district performance for each of the four core subject areas assessed by the End of Grade and End of Course assessments, with specific consideration toward data reflecting Proficient Learner levels and greater.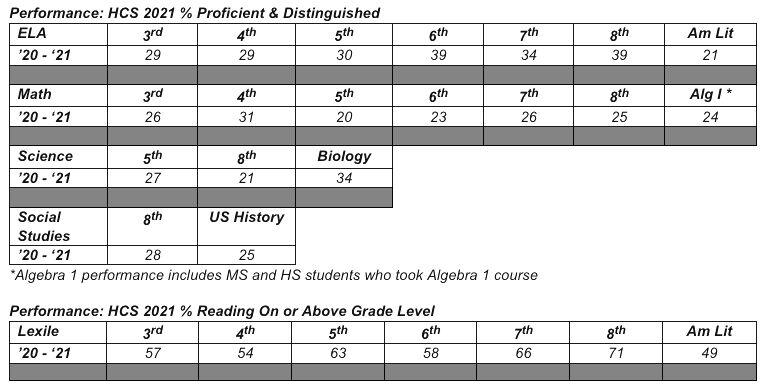 District officials said Superintendent Mary Elizabeth Davis and the Henry County Board of Education remain committed to ensuring that "every resource is at the district's disposal to support any learning gaps that occurred last year due to the pandemic. From added support in our elementary grade levels to new instructional and learning resources, and even course credit and grade recovery opportunities, extensive efforts and planning have been under way since January to ensure that the district can move into the new school year with minimal interruptions and a laser focus on getting our students back on the upward trajectory witnessed before the 2020-2021 school year. This planning included a focus on what could be done during the first few weeks of summer to reduce any gaps as well as important targeted support to start the new school year."
Before the end of the previous school year, district officials laid out three assurances for families that the district has focused its efforts to supporting as a part of the overall learning recovery efforts throughout the summer and new school year. Henry County Schools will:
♦ Proactively monitor and accelerate reading proficiency
♦ Address essential standards and skills gaps in ELA and Mathematics
♦ Support students in high school to recover course credits needed to graduate
"There is no denying the challenges we all overcame to work through last school year. In the end, we were able to celebrate our seniors while giving proper support and attention to the students moving into new grades this year having endured an uncertain educational landscape," Davis said. "We remain committed to helping everyone regain the achievement levels they were once poised to accomplish before everything was interrupted. We look forward to celebrating large-scale growth when we get to this point next year thanks to the incredible efforts of our teachers and staff to support student learning."