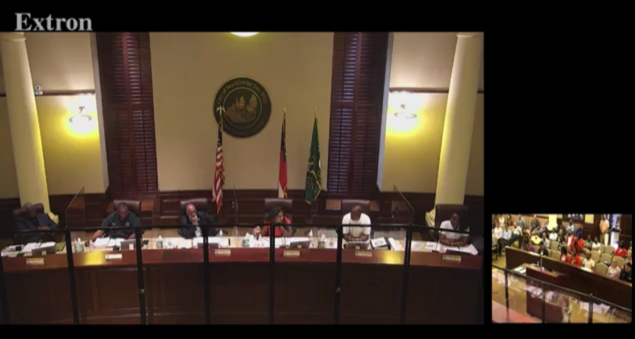 STOCKBRIDGE — The Stockbridge City Council found itself at a standstill following a public hearing for a land use map change that would allow development of a high-density mixed-use development on Ga. Highway 138 near Spivey Road and Tributary Parkway.
Council members held a June 13 public hearing on a request from Remi Rose Development LLC — represented by Battle Law P.C. — to change the future land use designations for two parcels of land totaling 68.8 acres and to change the zoning from neighborhood commercial (3.131 acres) and general commercial (65.7 acres) to Planned Unit Development.
The applicant asked that the future land use designation be changed from low-density vertical mixed-use, which is intended for commercial/retail areas along corridors and intersections, to high-density residential to allow for a mixed-use project with apartments, townhomes and commercial/retail uses.
The developer's plan calls for 48,000 square feet of commercial/retail space in two buildings; 360 apartment units; and 102 townhomes in 22 buildings.
Many concerned citizens from bordering Clayton County, who also live in the Spivey Road vicinity, were allowed the opportunity to share their comments regarding the rezoning plans. 
Vicky Simmons said she lives in the Eagle Ridge subdivision and did not mind the rezoning amendments suggested by the company. Simmons said she has two sons who are currently looking for a place to rent, and the proposed development is something she feels they would like.
"We have got to bring young people and keep our young people here," she said as the hearing progressed. "This is about our future with our children and our children's children."
But Dion Roberts, who said she lives on Spivey Road near where the development is planned to be built, felt the amendments could bring higher crime rates to the area.
"When you have a lot of renters, you have more crime," Roberts said. "I don't want more crime in my neighborhood, and that is a big concern because I have children here."
Others brought up concerns regarding traffic congestion and overcrowding in the local schools. However, companies — and council members — are not legally required to consider traffic or issues of overcrowded schools as part of developmental plans.  
At the close of the public hearing, the comprehensive plan change failed due to lack of a motion, despite the developer offering to amend conditions regarding reduction in units — from 360 to 315 — and reducing the number of three-bedroom units to no more than 5%. 
With the added conditions the council would have been legally allowed to approve the comprehensive plan change, and could have moved to approve the additional conditions to the rezoning request at a later time; however, with no motion on the floor both the comprehensive plan and zoning changes were dropped.
The city is looking to determine if the requested changes may be brought back before the council in six months or two years.