Jay Riddle and Tanner McLeod are both avid soccer fans and well-known supporters of Atlanta United. The duo, along with a couple of other surprise guests, will be writing a weekly (or whenever they feel like it) blog. Feel free to comment below. Thoughts on the match? Thoughts on the blog? Let us know.
Well that was a bit better, wasn't it?
Atlanta United defeated Monterrey 1-0 in the second leg of their CONCACAF Champions League tie on Wednesday night at Mercedes Benz Stadium. The Five Stripes handed the visiting Los Rayados their first loss of 2019.
Unfortunately, even with the victory, Atlanta United lost the tie 3-1 on aggregate. Their great work Wednesday night undone by a poor last 10 minutes in Monterrey that saw 1-0 become 3-0 and effectively kill the tie. It's unfortunate as well because at times it seemed that the system and philosophy Frank de Boer is attempting to implement in Atlanta was finally starting to show signs of life. This left many left to wonder what could have been had the tie been closer.
I've been crying out for a performance that shows exactly what de Boer is trying to do tactically and I believe that was delivered on Wednesday night. Monterrey is a very good side. Monterrey is better than Atlanta United — it's weird to even say that but if you're being objective, it's absolutely true. Los Rayados are more valuable, stacked with Mexican internationals and players who have plied their trade in some of the biggest leagues in the world. There is no shame going out to a team of that stature and ability at this stage.
For a team as talented as Monterrey, it did something very similar to what Atlanta United did in its second leg against the New York Red Bulls in the Eastern Conference Finals second leg last season. Defending a 3-0 lead, they defended deep and were very well organized. Some may argue that because of their deep block and defensive shape you can't read too much into this performance by Atlanta United. The Five Stripes weren't pressed and harried as they were in Mexico. I think it's very much the opposite. Los Rayados are the best team Atlanta United will play against in 2019. They have the best defense that the Five Stripes will face.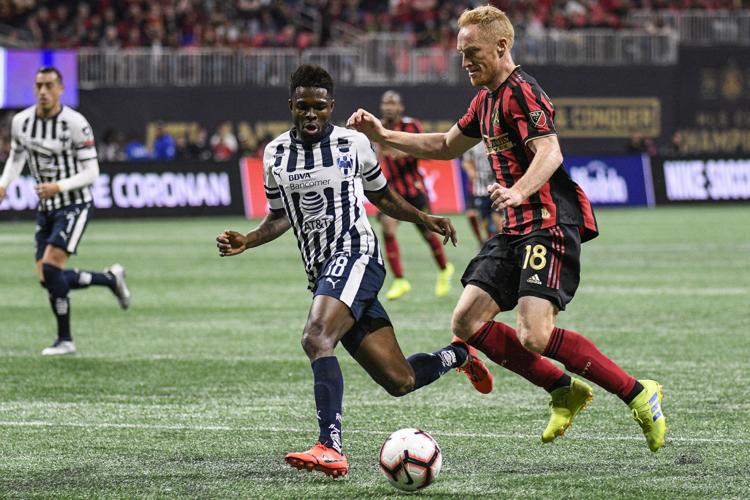 In a match in which Atlanta United needed a better performance, I believe they gave one. You could see how a formation that has been much maligned as overly defensive can in fact be very attacking. Both Jeff Larentowicz and Michael Parkhurst were allowed to push up the field from their outside center back positions. They did really well but I can see how it could be even more attacking with LGP on the left and Franco Escobar on the right; both being younger, quicker and skilled on the ball. I also think as Miles Robinson continues to improve it allows his defensive partners to have the confidence that they can push further forward and be more aggressive. They know the 22-year-old will clean up anything that happens behind them.
If you made me pick one thing that stood out more than anything else from last night's match it would be the performance of Robinson. His growth from the first match nightmare in Costa Rica versus Herediano to last night's performance against Monterrey has been nothing short of incredible. Against Rogelio Funes Mori, who is one of the craftiest operators he will face this season, Robinson was completely unfazed. He handled everything thrown at him with sheer athleticism and class.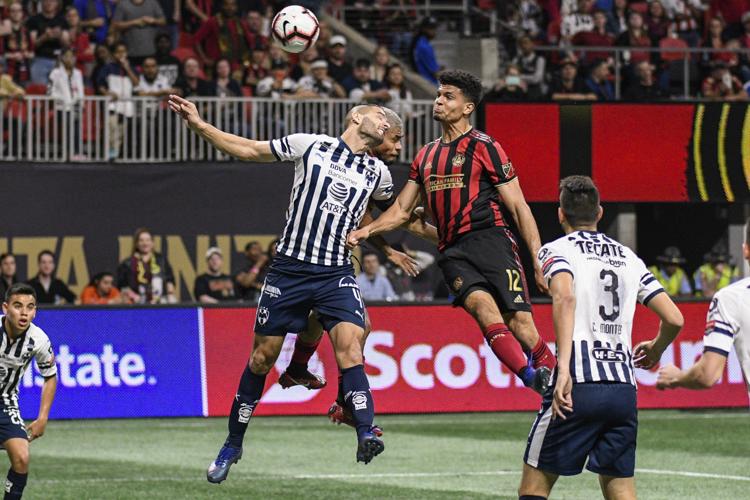 If Robinson can continue to build upon performances like this one he will be a VERY good center back for Atlanta United, hopefully for many years to come. If de Boer continues to play with a back three, I would struggle to name a better one than LGP, Robinson and Escobar in all of MLS. Not to forget that you still have Parkhurst, Larentowicz, and even debutant Florentin Pogba. In terms of talent and depth at this level, that's not too shabby.
On the attacking end of the pitch, Josef Martinez still looks a bit frustrated, and I understand, but things were "better". The reigning MLS MVP came to life in the 4-2-3-1, linking up with Darlington Nagbe to score the game's lone goal. The goal itself was a direct result of the quick "pass and move" system that can produce beautiful football at its highest level. I believe it also showed how much more effective Josef can be when playing with a true "number 10" who facilitates the play and creates chances. Meanwhile Ezequiel Barco was doing his best Miguel Almiron impersonation at times with some of his driving runs through midfield. Barco still has moments that will frustrate some fans, but his performances have improved with each match. Tito Villalba was given time to show he is worthy of a start on Sunday against Philadelphia and I believe he did enough to earn that. Pity Martinez is the one attacking player that fans are still waiting to see the best from. The reigning South American Player of the Year still doesn't look fully up to speed with his new teammates but his talent is apparent to even the untrained eye. It may take time for the attack to fully click but the players are slowly getting more comfortable and back to playing the attractive soccer to which the 17's have become accustomed.
I believe the one thing Atlanta United fans (myself included) need to embrace more than anything else is patience. The "Total Football" system is complex and takes time to learn, never mind perfect. It relies on players knowing when and where to make runs and that only improves with training and match time. It is impossible to assume a manager is a failure after only five matches. Some may reference Crystal Palace but that was always a bad fit. I've been one of the biggest critics of how the team has played and the tactics employed by Frank de Boer so far, but last night I saw progress.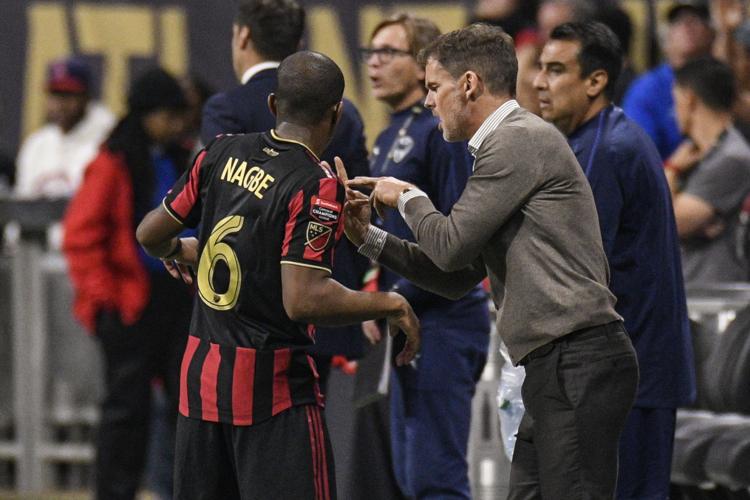 As hard as it may be to endure poor and often frustrating performances, it may prove to be worth it in the long run. People also need to understand what this managerial position means to Frank de Boer as well. Failure with Atlanta United could very well spell the end to his top level managerial career — a third strike if you will. Frank de Boer knows he needs to succeed at Atlanta United and he will do everything he can to continue the success that this club has already achieved. This fanbase has already shown their character and their class in how they have treated players who have left the club. They gave a standing ovation to Greg Garza upon his return to Atlanta this past Sunday and they stood proudly clapping the team off the pitch last night even though Atlanta United's Champions League journey had come to an end.
With their backs against the wall and facing elimination Atlanta United earned a standing ovation and the respect of one of the biggest clubs in North America. Maybe they have earned our patience as well.