He was wearing different warm ups in front of a different fanbase for a new team made up mostly of players he hadn't worked with until January.
Gerardo "Tata" Martino might have been standing on the same pitch in the stadium he called home for roughly two years with Atlanta United, but the contrasts extended even to his physical location during Wednesday night's Mexican National Team friendly against Venezuela. The benches were positioned opposite of their typical sides of the pitch, which is backed against the Mercedes-Benz Club, since the Mexican broadcast the match was televised from a different angle from MLS matches.
But one thing seemed familiar: the embrace and smiles Martino shared with Atlanta United and Venezuelan striker Josef Martinez in the middle of the pitch looked like a genuinely nostalgic reunion between old friends.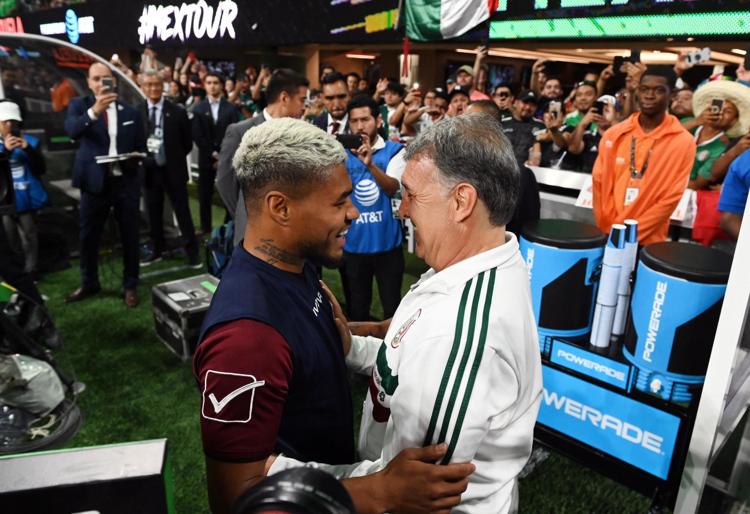 Martino spent most of this week in Atlanta, the city he helped bring an MLS Cup to in 2018. He was busy talking to media and training his relatively new club for its upcoming international competition, the CONCACAF Gold Cup. Mexico's first match will be June 15 against Cuba.
Wednesday's friendly was part of the Mexican National Team's 2019 U.S. Tour in which the international side is undefeated and has out-scored opponents 10-3 through three matches thus far. The tour has already stopped in San Diego and Santa Clara, California, and will progress to Arlington and San Antonio, Texas, this summer.
Martino, though, was in Atlanta on a business trip. He announced Mexico's final Gold Cup roster on Wednesday night, but still took time postgame to reflect on his pre-game reunion on the sideline with Martinez.
"Being in Atlanta makes me happy, going to the training site makes me happy, being on the same field makes me happy," he said through a translator. "I spent two wonderful years here and I've had a good time while I was here."
Martinez, on his part, was scarce after the game. The reigning MLS MVP left the Venezuelan locker room after the game without much interaction with media. He was subbed on for Venezuela in the second half of the match.